Hi,  I just saw this awesome app on APP store on Android and through I should blog on same.
Microsoft has recently release a Office 365 Partner admin app using which it can check service status of the Office 365 subscription. For now you cannot manager the admin related or site related activity using this APP but you can just check the status of service which is available. We can even check the ticket status associated to our subscription.
Incase you are managing Tenant of your customers\partners this app will help you all the Tenants on a single go.
I am looking for more Admin like functionality like creating site collection in SharePoint, Creating users, change some exchange related settings etc using this APP. Hope Microsoft will work on this app going forward. I can see that this APP is available for Android (4.1 and above) and for iOS (7 and above).
Yes currently the App is not yet ready for Windows Phone but I think it will be in market soon.
Below are some pics of this app
Home page of all the services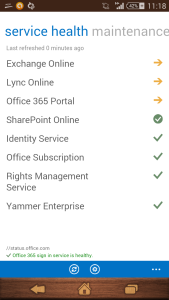 Check more details of services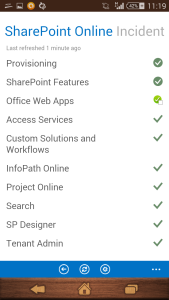 Check Ticket status and details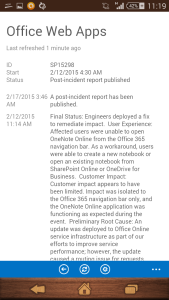 Hope you enjoyed reading it.