We all know that SharePoint Security update get downloaded and install with windows update. Normally these update do not change any build number so SharePoint admin were least concerned about the update. The only time a SharePoint admin would look at these update if users start facing a unknown SharePoint issue after windows update.
Since February 2015 things have changed for admins. Microsoft has started pushing cumulative update(this will change build number) along with Microsoft security update. Now every-time you install Windows update, you will have to run PSCONFIG and SharePoint build number will change.
Now SharePoint admins don't have to schedule a different slot for SharePoint update or download and install them separately.
Windows admin has to take additional care to make sure appropriate SharePoint updates are selected while installing Windows update.
As part of normal practice, when a update is installed we need to run the psconfig wizard to seal the patch and update SQL tables. Now after every windows update, SharePoint admin needs to run this psconfig wizard to make sure patches are properly installed.
If you have a Standalone server I don't think you should have any issues, if you have a Farm server setup I would recommend manually installing these update instead of windows update.
Lot of my friends use to make note of all the ASP.net, SharePoint security update and IIS update so that he can narrow down in case any issue occurs in future. Now he has to make note of SharePoint CU as well. Fortunately for everyone it was easy to filter out and decline the updates in our on-premises WSUS server or normal windows update.
Highlights:
1. SharePoint cumulative update is now part of windows updates
2. Run PSconfig after every windows update
3. Windows admin take extra care when installing Windows update.
Hope this will be helpful for you all.
You need to think if its additional burden on Windows Admin or heads up for SharePoint admin.
Hi,  I just saw this awesome app on APP store on Android and through I should blog on same.
Microsoft has recently release a Office 365 Partner admin app using which it can check service status of the Office 365 subscription. For now you cannot manager the admin related or site related activity using this APP but you can just check the status of service which is available. We can even check the ticket status associated to our subscription.
Incase you are managing Tenant of your customers\partners this app will help you all the Tenants on a single go.
I am looking for more Admin like functionality like creating site collection in SharePoint, Creating users, change some exchange related settings etc using this APP. Hope Microsoft will work on this app going forward. I can see that this APP is available for Android (4.1 and above) and for iOS (7 and above).
Yes currently the App is not yet ready for Windows Phone but I think it will be in market soon.
Below are some pics of this app
Home page of all the services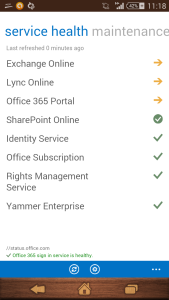 Check more details of services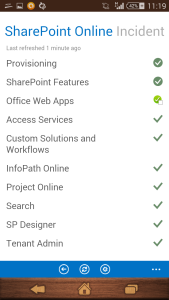 Check Ticket status and details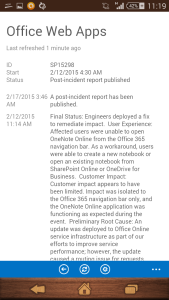 Hope you enjoyed reading it.