Install SQL, SharePoint. etc. labs as part of this domain
Once we are confirmed using script we are able to add new Virtual Machine to domain, we can use the ready to use SharePoint, SQL, etc. VM's as part of our Lab environment. Let's see an example of SharePoint server.
Login to your Azure Subscription Portal site https://manage.windowsazure.com
Select "Virtual Machines" from left menu and select "Create a Virtual Machine"

Under "Virtual Machine" select "From Gallery"

On the Choose an Image screen select SharePoint server 2013 Trial. This trial works for 180 days.

Type the Machines necessary details like Hardware configuration, Machine name, username and password
Now we have an important step in the process. Select the DEMONETWORK you created in Region/Affinity Group/Virtual Network. Make sure our Virtual network name is selected in Virtual Network Subnet. Click on Next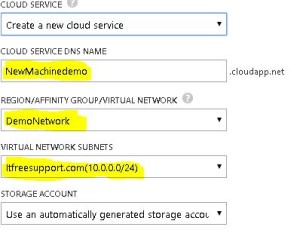 Now comes the most important step, we need to select Custom Script on this page and select the Join.ps1 script we just created. Click Finish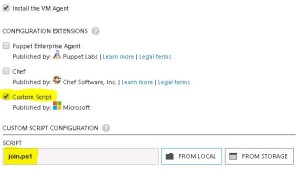 Now you can see that even SharePoint server is ready within few minutes
Advantage here is that you have a single credential stored on Active directory using which you manage all the Virtual Machine and work on your lab.
Below you can see that I have created SQL server, SharePoint server and started using them in just couple of minutes.