Now let's configure this server to be a Domain Controller. As discussed earlier Domain controller manage DNS, AD Users, etc. and are normally the 1st and most important server in a company.
Login to your Azure Subscription Portal site https://manage.windowsazure.com
Select Virtual Machine from left Menu
Select the Virtual Machine we just created and click on Connect at bottom
Now RDP to the Virtual Machine we created and click on Server Manager
Select Manager > Add Roles and Features
Select "Next" on Installation Type screen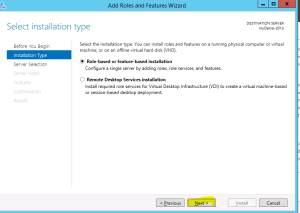 Select "Next" on Destination Server screen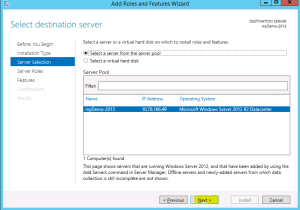 Check Box "Active Directory Domain servers"

Click on "Add Feature" on pop-up screen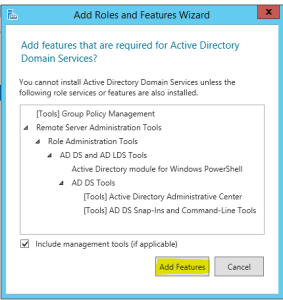 Select the check box "Restart the destination server if required" > Click OK

Once it is installed, Click on Close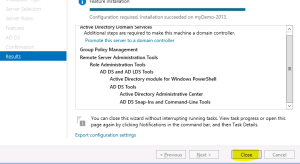 Open the Server Manager again, Click on Flag at top and select "Promote this server to a Domain Controller"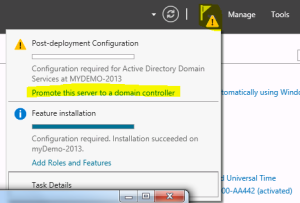 Select "Add a New forest", type domain name
Type the DSRM password and click "Next" (Note: this is required when you try to recover your active directory)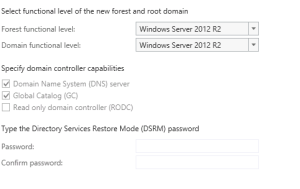 Now you will have to select your domain name. For example. Demo.com
The NetBIOS Name screen will remove .com and you will see only demo.
Select the Default location of installation and click "Next"
Click on "Install"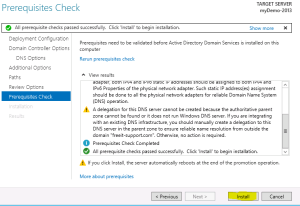 Once the Computer is restarted, your Domain Controller would be ready.
Note: From now on when you logon to server you need use your domain name along with username we just created to authenticate to server. Example: demo\user1