Create a server on Azure in the Virtual Network
If you have worked on Hyper-V or any other Virtual server environment, this process is pretty simple for you. Here we will create our Virtual Machines. First machine would be our Domain Controller also known as DC. This server manage DNS, AD Users, etc. and normally the 1st and most important server in a company.
Login to your Azure Subscription Portal site https://manage.windowsazure.com
Select "Virtual Machines" from left menu and select "Create a Virtual Machine"

Under "Virtual Machine" select "From Gallery"

On the Choose an Image screen select "Windows server 2012 R2" and select Next
Type a unique name for the Virtual Machine. Select a username and password which you will never forget.(Selected a Low configuration because I won't be using it much)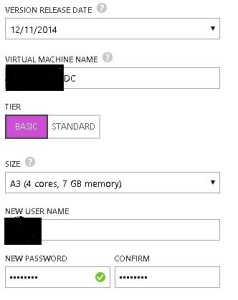 Now we have the most important step in the process. Select the DEMONETWORK you created in Region/Affinity Group/Virtual Network. Make sure our Virtual network name is selected in Virtual Network Subnet. Click on Next.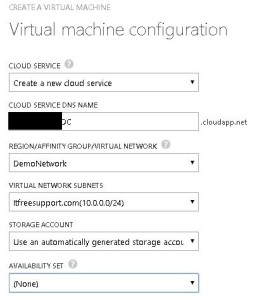 Now Select Finish.
Once the Machine is created, you will get a Connect button at bottom of screen.