Archive for the 'Event' Category
Hi All,
As you all know Microsoft is running a three days BUILD conference starting March 30. Microsoft's annual Build developer conference runs from March 30 to April 1 in San Francisco. Microsoft Build is Microsoft's biggest developer event. As per sources this year, Microsoft will talk a lot about cloud and IoT to be the big themes this year.
Microsoft will be streaming the Day 1 and 2 keynotes (Wednesday and Thursday from 8:30 a.m. PT to 11:30 a.m. PT) which you can see on same link below.
Day 1 starts off with a long keynote with various Microsoft executives, guests, and Microsoft's CEO, Satya Nadella. This keynote focuses mostly on Windows including new features and new tools for developers. Here is where you will learn what is coming next in Windows 10 for desktop, mobile, Windows 10 on Xbox, HoloLens, and the Internet of Things (IoT).
 The Day 1 and Day 2 keynote starts at 11:30 AM EST which is 9 pm IST and is expected to be Live for around 2.5 hours
You might hear a lot about how Microsoft's HoloLens could change communication via 'Holoportation', Microsoft Graph which is a smarter, stickier apps. Microsoft's multi-pronged strategy for bringing speech to IoT devices, Microsoft's private preview of Visual Studio Next, Microsoft starts rolling out Office 365 Connectors as part of Groups
You can check more details HERE
Hope you will enjoy it
Hi All,
The most awaited SharePoint 2016 RTM launched few minutes back. It is a very important milestone for SharePoint 2016 roadmap. SharePoint 2016 is the 1st version of SharePoint which has most of Hybrid features.
SharePoint 16 has revealed lot of new capabilities for end users, SharePoint administrators and developers. Enhanced hybrid Service applications will bring the world closure to Office 365 and Windows Azure.
You can learn a lot more through SharePoint Server 2016 reviewer's guide which has awesome use cases and lot of helpful information around SharePoint 2016. You can even download the trial version of of the SharePoint 2016 RTM.
One of the biggest changes in Project Server 2016 is the installation process is that Project Server 2016 runs as a service application in SharePoint Server 2016. The SharePoint Server 2016 MSI file will contain the installation files for Project Server 2016 as well, so a separate installation is no longer required as it was in previous versions of Project Server. Activating Project Server 2016 will require a PID key.
On May 4, 2016 there is a live online event to celebrate SharePoint 2016 share roadmap for the future of SharePoint Vnext. Jeff Teper(CVP for OneDrive and SharePoint) will share more indepth and future plans for SharePoint and OneDrive for Business for both on-premises and in the cloud with Office 365. To register your self for this event click here
Now few helpful resources for SharePoint Server 2016
Download the RTM Trial.
See what's new with a demo on Microsoft Mechanics.
Download the reviewer's guide.
Learn more about cloud hybrid search at hybrid.office.com.
Wish you all the best for your future with SharePoint 2016.
Hi All,
Today we will understand how we can prepare some dry seeds in case we wish to plant trees.
We will 1st collect seeds from different fruits and vegetables. I collected some orange seeds as shown below: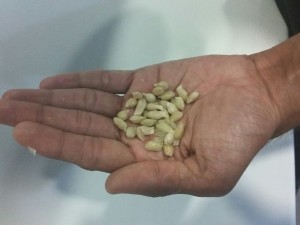 Now we will wash it properly. Motive is to make sure seeds don't carry any pulp or it might have fungus on it. Check the image below: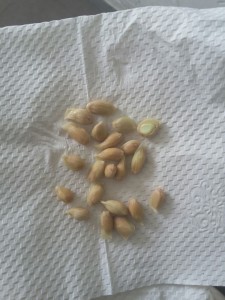 Once we wash the seeds, we will dry them using some napkin or cloth and keep it under sunlight for a day or 2. Seeds must be carefully dried and then stored under the proper conditions in order to give them the best chances of germinating and producing healthy plants when they are planted.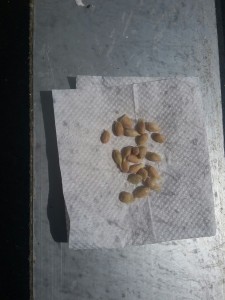 Dry your seeds thoroughly before storing them. If seeds sweat on insides of jars during storage, they are too wet and must be dried further in order to store successfully.
Thanks everyone for helping us save planet.
Hello Friends,
Mark your calender for weekend to make it worth. We are coming up with our next offline seminar which we are planning to conduct on 18th April, Sunday from 11:00 am to 4:00 pm. This time we have a session on Sharepoint Installation & configuration which would be conducted by my friend me Inderjeet Singh (MVP) and other half of the session would be conducted by (Pradeep Shet) on JavaScript framework i.e. – Knockout. This will be an hands on session so get your laptops with you.
We want lots of people to take the benefit of these sessions. Contact your friends and tell them about this free seminar.
Venue: – Microsoft Office (4th Floor, Windsor Bldg, Off. CST Road, Kalina, Santacruz[E], Mumbai – 400098.
Landmark:- Near Mumbai University
Date :- 18th April, 2015
Timings :- 11:00 am to 4:00 pm
Pre requisites :
Get your laptop with you as this would be hands on session. Please don't forget to bring it if you have it.
Share this event details across your friend circle who are interested in attending. We have created facebook event for this. Mark it as going if you are willing to attend it.
After a recent release of Visual Studio Community 2013 available for free which has nearly all features of Professional edition for non-enterprise application development, Now Microsoft has announced Visual Studio 2015 edition that will be available when release the final product this summer.
If you have a MSDN subscription then after the release of Visual Studio 2015, Visual Studio Premium 2013 and Visual Studio Ultimate 2013 would be clubbed into one single offering called Visual Studio Enterprise with MSDN.
Visual Studio Professional 2013 with MSDN would be upgraded to Visual Studio Professional 2015 with MSDN and Visual Studio Community edition 2013 will be upgraded to Visual Studio Community edition 2015.
Visual Studio Community edition and Visual Studio Professional with MSDN, our new Visual Studio Enterprise with MSDN would be 3 primary Visual Studio 2015 offerings.
Looking forward for new and exiting feature in Visual Studio 2015, specially Visual Studio 2015 community edition(free)
For more details check
http://blogs.msdn.com/b/visualstudio/archive/2015/03/31/announcing-the-visual-studio-2015-product-line.aspx
Hi All,
Lets congratulate all the speakers who made their space in Ignite 2015 hosted by Microsoft at Chicago
http://ignite.microsoft.com/speakers
Below are few highlight speaker I know about.
Amit Bansal : Amit Bansal is a Microsoft Regional Director in India. With his 14 years IT experience he is a SQL expert and a key to SQL maestro. He has been a  Speaker in lot of session/conference like TechED, etc conducted by Microsoft.
Manas Biswas : Manas Biswas is working in Microsoft India office at SharePoint Escalation services team. I 1st met in in Wipro when I was working for SharePoint support. Manas has been a speaker in lot of events like SharePoint conference, Office 365 summit, etc.
Vivek Sharma : Vivek is a Director of Microsoft Office 365 team at Redmond. I met Vivek in the recent MVP summit in Redmond where he shared lot of insight on Office 365. Vivek has been a speaker in lot of Office 365 conference around the world.
Hope to see you all at Microsoft Ignite and once again congratulation to all the speakers.
Hi Friends,
I recently got to know about the SQLServerGeeks Annual Summit 2015 on August 27, 28, 29, 2015 in Bangalore at NIMHANS Convention Center by Microsoft Regional Director Amit Bansal, SQL MVP Sarabjeet Singh and many more….
It is a great moment for SQLServerGeeks.com as this event would be one of the biggest event by SQLServerGeeks.
I also got to know that SQLServerGeeks Annual Summit 2015 is not just the largest but the only SQL Server conference in Asia apart from Microsoft conference.
Looking at the populatry o the event first thing you must do is Register for the event.
http://www.sqlservergeeks.com/summit2015/registration-details/
Looking at the cost of registration I assume we are only playing for the Lunch and snacks where as the SQL Server learning is completely free 🙂
Little bit about the conference and its tracks. There are 40+ speakers, 60+ sessions for all this 5 tracks with a awesome learning experience.  Session would be related to
Database Administration
Database Development Business Intelligence
Cloud
Big Data and so on…..
The sessions scale out on knowledge level from 200 through 500 from the SQL experts around the globe. Additionally, you will have networking opportunities with your peers, speakers, sponsors and exhibitors.
Look forward to meet you in SQLServerGeeks Annual Summit 2015 !
Microsoft recently announced that Microsoft Learning brought back its most popular Second Shot Offer for MCP exams.
The Second Shot offer will help you retake an exam in case you failed it the first time between January 5th 2015 and May 31st 2015
Again as mentioned in my previous posts that all exams are now taken at Pearson Vue testing centers and scheduled directly from your MCP portal and there is no coded needed. Prometric is now not an option for MCP examination.
Once you register for an MCP exam between January 5, 2015, and May 31, 2015, you will be eligible for a free retake if you don't pass it. You have 30 days from the date you took the initial exam to schedule a retake. To schedule your retake, sign in, select your exam from the exam list, and click Schedule now for free.
Please do read Frequently Asked Questions(FAQ) below:
https://www.microsoft.com/learning/en-us/second-shot.aspx
Best Of Luck for the examination 🙂
What do you mean by Post2Beat?
Post2Beat is a Microsoft Challenge asking everyone to Share your knowledge through blog\forums and win prices. It is designed specially for contributors in India, Nepal and Bangladesh.
Can I participate?
Yes, everyone from India, Nepal and Bangladesh who wish to share your knowledge and experience via forum posts can participate in challenge.
Where should I post?
All the Post\ forum contributions in MS forums like MSDN, TechNet Community, ASP.net, and IIS.net are considered for Post2Beat challenge.
When will it start?
The challenge is already started from December 23, 2014 though January 22, 2015.Just Register to the Site http://post2beat.sageframe.co/ and post as much as you can.
When will you announce the winner?
Winners of Post2beat challenge will be announced in South Asia MVP Open Day 2015 at Bangalore. Winners would also be notified via email.
For more details visit:
http://post2beat.sageframe.co
Happy Posting…………..